Today's companies are facing major threats that are accelerating in their evolution. If an attack occurs, it is imperative to quickly isolate and eradicate the threat, and ensure that it cannot happen again.
The growth of computer crime, telecommuting and distributed architectures generate great Threats.
Cybercrime organizations are real and look for Vulnerabilities in the organization.
Not being ready to respond to an incident is a Risk to assets
Organizations want to know their current cybersecurity profile, measures and prevention of Exposure.
At Redsis we face the new digital threats with powerful solutions and state-of-the-art architectures that strengthen the security of companies, with low demand on infrastructure and rapid deployment.
Information systems vulnerability management
What is the Vulnerability Management solution?
Vulnerability management is an ongoing process. As an organization evolves, new users, applications, and other changes can create new vulnerabilities that hackers can exploit. New vulnerabilities are constantly being discovered, so the following steps can mean the difference between staying protected and suffering a devastating breach.
This is how the Frontline Vulnerability Manager™ – Cloud VM solution works
As a native cloud-based Software-as-a-Service (SaaS), Frontline Cloud makes vulnerability management and threat assessment fast to implement, flexible and easy to use.
It is an industry-leading Cybersecurity solution that is simple, cost-effective, and lightweight. Solution based on risks and threats, allows to address a consistent methodology in detection, scanning and generation of personalized reports, analysis and prioritization.
Attack surface identification
Introduction
Organizations have done a good job of finding and fixing known vulnerabilities in the organization's managed assets. But the rapid adoption of hybrid cloud models and the ongoing support of a remote workforce have made it impossible for security to manage the expanding enterprise attack surface.

This is how the attack surface identification solution works
Randori Recon uses a continuous and precise discovery process to uncover shadow IT and get you on target quickly with correlated findings and targets that are based on adverse temptation. Streamlined workflows improve your overall resiliency through integrations with your existing security ecosystem.
Identify externally exposed on-premises or cloud assets.
Understand hidden risk.
Discover attack patterns and techniques that are more likely to be exploited by a real-world attacker.
Black box discovery.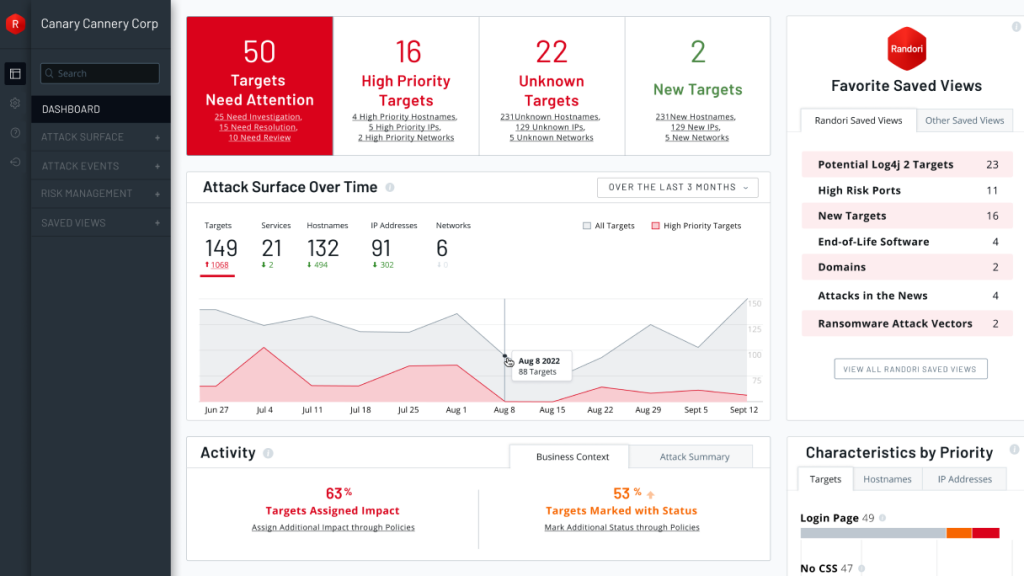 Intrinsic security of information systems
What is the intrinsically safe solution?
Intrinsic security in the protection of virtualized data center traffic. VMware and Redsis are able to help companies discover and implement a Zero Trust architecture, with a vision of agility, flexibility and scalability.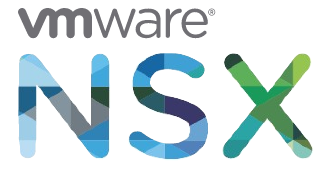 Intrinsically Safe Solution Features
Distributed security firewall
Internal distributed software
Horizontal scaling
For placement in layers 4 and 7
Visibility and enforcement
Complete from east to west
Micro-segmentation (security zones)
Application macro-segmentation
Detection and prevention
Intrusion detection system
Intrusion Prevention System
Network traffic analysis
Agility, flexibility, scalability
Security with consistent rules
Visibility and automation
Compliance without network changes
Managed Security SOC MDR+EDR
Introduction
Information systems security management is essential to guarantee the confidentiality, integrity and availability of information in any organization. In a Security Operations Center, this task becomes even more critical.
SOC: SaaS Security Operations Center

Managed security solution
CYREBRO's cloud-based SOC is an advanced, next-generation cybersecurity platform that offers forensic investigation capabilities. This platform enables continuous investigations of malicious activities and cybersecurity threats to be carried out efficiently, including post-mortem analysis of verified security incidents. Providing our clients with control and visibility 24 hours a day, 7 days a week, operating their own security remotely and in the most effective and tactical way, it can include an EDR (End point detection and response system such as "SentinelOne ")
Characteristics of the managed security solution
In today's information security management, competitive companies need to centralize, reduce and optimize the management of through this unique managed SOC platform of its kind:
Fast and cost effective "time to install" with minimal cost.
Advanced forensic capabilities.
Professional incident response, 24/7 expert response team service to not only help the customer remediate and contain an incident in real time, but also act as a call center professional management throughout the event.
Over 1,000 unique and proprietary detection algorithms, written, tested, and executed over years of real-world cyber operation and detection experience
Own intelligence on cyber-threats.
Advanced protection systems for devices and endpoints connected to the network.
Advanced cybersecurity in vulnerability scanning and attack prevention.
Advantages of the SaaS Security Operations Center
Monitoring and Surveillance 24/7/365
Effective and rapid response to incidents
Proactive threat intelligence
Intrusion and vulnerability management
Investigation, analysis, digital forensic management
Visibility of security posture
MDR and EDR, the ideal combination.
Data encryption in information systems
Features of the data encryption solution
Encryption solutions allow you to encrypt data wherever it is stored (internally, on workstations or servers or externally, on data exchange servers) and also encrypt information exchanges (mail, attachments, removable media).

Data encryption solution functionalities
Redsis and PRIMX offer encryption solutions that cover all confidentiality needs in organizations. PRIM'X is dedicated to protecting all data at rest and in transit against external and internal threats. PRIM'X presents a new way to integrate encryption within organizations for greater protection of their sensitive data against loss, theft, disclosure and economic espionage.
Ensure the confidentiality of files in information systems:
ZONECENTRAL, for files and folders, is based on proven security concepts. There is no open document traffic on the servers. No key is stored in the information system. No key transits the network. All encryption operations are performed on the workstation with the user's key.
Anti-theft encryption of your laptops
CRYHOD is a modern encryption program that ensures full encryption of the hard drives of company portable workstations.
Encrypted containers to protect file transport
ZED! CONTAINERS are similar to a "pouch" containing sensitive files that only identified recipients have the right to read.
Business messaging encryption
ZEDMAIL automatically encrypts messages and their attachments. Integrated into Outlook messaging, end-to-end encryption with the user's secret.
A range of solutions that meet all your needs:
Information systems security management
Information systems security management is essential to guarantee the confidentiality, integrity and availability of information in any organization. In a Security Operations Center, this task becomes even more critical, since it is a highly dynamic and changing environment. The security of information systems must be a priority at all times to ensure the protection of confidential information and prevent potential security breaches.

In cybersecurity, the Security Operations Center, SOC (Security Operation Center), refers to the team responsible for guaranteeing the security of information. The SOC is a platform that allows the supervision and administration of the security of the information system through collection tools, event correlation and remote intervention.
Intelligent data protection in information systems
Information protection is a constant challenge for companies today. With the increasing amount of data stored and the proliferation of cyber threats, it is crucial to have a comprehensive solution that allows you to protect data in real time and on demand.
Managed File Transfer
Centralize data exchange between systems, employees, customers and partners.

Digital rights management
Encryption and access control of files wherever they are.

Intrusive cybersecurity (Pentesting)
Introduction
Talking about Risk Management, Information Security and Cybersecurity is undoubtedly talking about carrying out a conscious evaluation of the protection of information and processes, including technology components, hardware, software, data, applications, etc.

What is pentesting?
Pentesting is the main basis for identifying possible risks to which the security infrastructure of any organization is exposed and that could compromise information and the normal development of business processes.
Characterization of intrusive cybersecurity solution to pentesting:
Measurable.
Consistent and repeatable.
Valid beyond the "current" time period.
Based on the merit of the Ethical Hacker and analyst, and not on trademarks.
Exhaustive.
Consistent with individual and local laws and the human right to privacy.
Intrusive cybersecurity scenario:
The scenarios on which penetration tests or ethical Hacking could be carried out, according to the needs of the organization are, among others:
External tests on public servers or applications exposed on the Internet and mobile APPs
Internal tests of Communications equipment or active network elements
Internal tests to application or specific purpose servers (databases, management and control, Web) on any operating system
Tests on Wireless networks and VoIP segments
With fast and effective cybersecurity enhancements based on IBM products and IBM i experts, organizations can count on robust and constantly evolving protection for their critical systems and data.
IBM i is one of the most secure operating systems, but default settings and incorrect configurations put these servers at risk. This fact is confirmed year after year by the annual State of IBM i Security Study. Redsis is a partner who knows IBM i inside and out, we can help you take advantage of the powerful security features of the operating system, and security professionals at Redsis and Fortra have unsurpassed real-world IBM i experience in implementing the specialized security solutions.
Compliance Reports
Compliance Monitor for IBM i
Privileged Access Management
Authority Broker for IBM i
Self-Service Passwords
Password Self Help for IBM i
Database Monitoring
Database Monitor for IBM i
User Provisioning
Identity Manager for IBM i
Multifactor Authentication
SecurlD Agent for IBM i
Native Encryption
Encryption for IBM i
Perimeter Access Control
Exit Point Manager for IBM i
Monitoring Commands
Command Security for IBM i
Automated Risk Audit
Risk Assessor for IBM i
Events and Security Information
SIEM Agent for IBM i, Event Manager
Native Antivirus Protection
IBM i, AIX, Linux, Linux on Z, and ONE
Security Policy Control
Policy Minder for IBM i
Secure File Transfer
GoAnywhere
Security Scan
Free IBM i Security Scan
Fast and effective improvements
based on IBM i experts
Information systems vulnerability management

What is the Vulnerability Management solution?
Vulnerability management is an ongoing process. As an organization evolves, new users, applications, and other changes can create new vulnerabilities that hackers can exploit. New vulnerabilities are constantly being discovered, so the following steps can mean the difference between staying protected and suffering a devastating breach.

This is how the Frontline Vulnerability Manager™ – Cloud VM solution works
As a native cloud-based Software-as-a-Service (SaaS), Frontline Cloud makes vulnerability management and threat assessment fast to implement, flexible and easy to use.
It is an industry-leading Cybersecurity solution that is simple, cost-effective, and lightweight. Solution based on risks and threats, allows to address a consistent methodology in detection, scanning and generation of personalized reports, analysis and prioritization.

Attack surface identification

Introduction
Organizations have done a good job of finding and fixing known vulnerabilities in the organization's managed assets. But the rapid adoption of hybrid cloud models and the ongoing support of a remote workforce have made it impossible for security to manage the expanding enterprise attack surface.

This is how the attack surface identification solution works
Randori Recon uses a continuous and precise discovery process to uncover shadow IT and get you on target quickly with correlated findings and targets that are based on adverse temptation. Streamlined workflows improve your overall resiliency through integrations with your existing security ecosystem.

Identify externally exposed on-premises or cloud assets.
Understand hidden risk.
Discover attack patterns and techniques that are more likely to be exploited by a real-world attacker.
Black box discovery.

Intrinsic security of information systems

What is the intrinsically safe solution?
Intrinsic security in the protection of virtualized data center traffic. VMware and Redsis are able to help companies discover and implement a Zero Trust architecture, with a vision of agility, flexibility and scalability.

Intrinsically Safe Solution Features

Distributed security firewall

Internal distributed software
Horizontal scaling
For placement in layers 4 and 7

Visibility and enforcement

Complete from east to west
Micro-segmentation (security zones)
Application macro-segmentation

Detection and prevention

Intrusion detection system
Intrusion Prevention System
Network traffic analysis

Agility, flexibility, scalability

Security with consistent rules
Visibility and automation
Compliance without network changes

Managed Security SOC MDR+EDR

Introduction
Information systems security management is essential to guarantee the confidentiality, integrity and availability of information in any organization. In a Security Operations Center, this task becomes even more critical.
SOC: SaaS Security Operations Center

Managed security solution
CYREBRO's cloud-based SOC is an advanced, next-generation cybersecurity platform that offers forensic investigation capabilities. This platform enables continuous investigations of malicious activities and cybersecurity threats to be carried out efficiently, including post-mortem analysis of verified security incidents. Providing our clients with control and visibility 24 hours a day, 7 days a week, operating their own security remotely and in the most effective and tactical way, it can include an EDR (End point detection and response system such as "SentinelOne ")

Characteristics of the managed security solution
In today's information security management, competitive companies need to centralize, reduce and optimize the management of through this unique managed SOC platform of its kind:

Fast and cost effective "time to install" with minimal cost.
Advanced forensic capabilities.
Professional incident response, 24/7 expert response team service to not only help the customer remediate and contain an incident in real time, but also act as a call center professional management throughout the event.
Over 1,000 unique and proprietary detection algorithms, written, tested, and executed over years of real-world cyber operation and detection experience
Own intelligence on cyber-threats.
Advanced protection systems for devices and endpoints connected to the network.
Advanced cybersecurity in vulnerability scanning and attack prevention.

Advantages of the SaaS Security Operations Center

Monitoring and Surveillance 24/7/365
Effective and rapid response to incidents
Proactive threat intelligence
Intrusion and vulnerability management
Investigation, analysis, digital forensic management
Visibility of security posture
MDR and EDR, the ideal combination.

Data encryption in information systems

Features of the data encryption solution
Encryption solutions allow you to encrypt data wherever it is stored (internally, on workstations or servers or externally, on data exchange servers) and also encrypt information exchanges (mail, attachments, removable media).

Data encryption solution functionalities
Redsis and PRIMX offer encryption solutions that cover all confidentiality needs in organizations. PRIM'X is dedicated to protecting all data at rest and in transit against external and internal threats. PRIM'X presents a new way to integrate encryption within organizations for greater protection of their sensitive data against loss, theft, disclosure and economic espionage.

Ensure the confidentiality of files in information systems:
ZONECENTRAL, for files and folders, is based on proven security concepts. There is no open document traffic on the servers. No key is stored in the information system. No key transits the network. All encryption operations are performed on the workstation with the user's key.

Anti-theft encryption of your laptops
CRYHOD is a modern encryption program that ensures full encryption of the hard drives of company portable workstations.

Encrypted containers to protect file transport
ZED! CONTAINERS are similar to a "pouch" containing sensitive files that only identified recipients have the right to read.

Business messaging encryption
ZEDMAIL automatically encrypts messages and their attachments. Integrated into Outlook messaging, end-to-end encryption with the user's secret.

A range of solutions that meet all your needs:

Information systems security management

Information systems security management is essential to guarantee the confidentiality, integrity and availability of information in any organization. In a Security Operations Center, this task becomes even more critical, since it is a highly dynamic and changing environment. The security of information systems must be a priority at all times to ensure the protection of confidential information and prevent potential security breaches.

In cybersecurity, the Security Operations Center, SOC (Security Operation Center), refers to the team responsible for guaranteeing the security of information. The SOC is a platform that allows the supervision and administration of the security of the information system through collection tools, event correlation and remote intervention.

Intelligent data protection in information systems

Information protection is a constant challenge for companies today. With the increasing amount of data stored and the proliferation of cyber threats, it is crucial to have a comprehensive solution that allows you to protect data in real time and on demand.

Managed File Transfer
Centralize data exchange between systems, employees, customers and partners.

Digital rights management
Encryption and access control of files wherever they are.

Intrusive cybersecurity (Pentesting)

Introduction
Talking about Risk Management, Information Security and Cybersecurity is undoubtedly talking about carrying out a conscious evaluation of the protection of information and processes, including technology components, hardware, software, data, applications, etc.

What is pentesting?
Pentesting is the main basis for identifying possible risks to which the security infrastructure of any organization is exposed and that could compromise information and the normal development of business processes.

Characterization of intrusive cybersecurity solution to pentesting:

Measurable.
Consistent and repeatable.
Valid beyond the "current" time period.
Based on the merit of the Ethical Hacker and analyst, and not on trademarks.
Exhaustive.
Consistent with individual and local laws and the human right to privacy.

Intrusive cybersecurity scenario:

The scenarios on which penetration tests or ethical Hacking could be carried out, according to the needs of the organization are, among others:
External tests on public servers or applications exposed on the Internet and mobile APPs
Internal tests of Communications equipment or active network elements
Internal tests to application or specific purpose servers (databases, management and control, Web) on any operating system
Tests on Wireless networks and VoIP segments

With fast and effective cybersecurity enhancements based on IBM products and IBM i experts, organizations can count on robust and constantly evolving protection for their critical systems and data.

IBM i is one of the most secure operating systems, but default settings and incorrect configurations put these servers at risk. This fact is confirmed year after year by the annual State of IBM i Security Study. Redsis is a partner who knows IBM i inside and out, we can help you take advantage of the powerful security features of the operating system, and security professionals at Redsis and Fortra have unsurpassed real-world IBM i experience in implementing the specialized security solutions.

Compliance Reports
Compliance Monitor for IBM i

Privileged Access Management
Authority Broker for IBM i

Self-Service Passwords
Password Self Help for IBM i

Database Monitoring
Database Monitor for IBM i

User Provisioning
Identity Manager for IBM i

Multifactor Authentication
SecurlD Agent for IBM i

Native Encryption
Encryption for IBM i

Perimeter Access Control
Exit Point Manager for IBM i

Monitoring Commands
Command Security for IBM i

Automated Risk Audit
Risk Assessor for IBM i

Events and Security Information
SIEM Agent for IBM i, Event Manager

Native Antivirus Protection
IBM i, AIX, Linux, Linux on Z, and ONE

Security Policy Control
Policy Minder for IBM i

Secure File Transfer
GoAnywhere

Security Scan
Free IBM i Security Scan

Fast and effective improvements
based on IBM i experts