Traditional storage solutions offer simplicity, velocity and ready data access performance with the agility and efficiency needed for hybrid cloud. Through data connection across any architecture, our storage solutions practically cover almost all modern companies' requirements; from the smallest companies with a few megabytes of data to highly-efficient, highly-available enterprise solutions.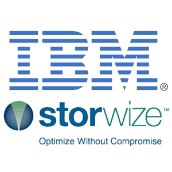 Have a full-storage infrastructure solution that is designed and ready to give life to enterprise initiatives aligned with the real business needs.
Disk storage for small and big businesses. Systems that provide real-time information, improve interactions between clients, and provide more services faster and more efficiently.
With IBM's disk storage, you obtain industry leading efficiencies, like IBM Real-Time Compression, automated level system, virtualization and light provisioning.
IBM's disk storage works perfectly with flash storage as a hybrid storage solution, increasing efficiency and velocity (speed), while it reduces IT costs.
Advantages of the IBM Storwize-based solutions
Activate the Enterprise Choice Warranty from one to four years for hardware and the advanced functions that offer magnificent opportunities to reduce total cost of ownership (TCO).
Efficiency and Performance
Reduce costs and drive performance of your current infrastructure. IBM Storwize leads you to incorporated virtualization that simplifies management and increases, up to 100%, the use of storage. All-flash performance improves the response time of your applications and critical data.
Apply the exceptional soundness and extraordinary enterprise continuity for critical applications in your most demanding business processes.