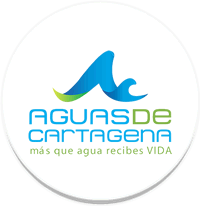 Aguas de Cartagena focuses its operation on contributing to the improvement of the community's quality of life and the city development, through the provision of services that benefit more than 260,000 clients of aqueduct and 246,000 clients of sewage, the coverage rate which reaches 99% and 94%, respectively. The company has five strategic components focused on economic sustainability, strengthening of the satisfaction level of its clients and community, local development, right to water, and labor welfare.
Aguas de Cartagena is a mixed-economy company that started operations in 1995 offering sanitary aqueduct and sewage services in the city of Cartagena de Indias.
Aguas de Cartagena gradually increases its operation and service coverage, which requires a series of expansions to its technology infrastructure and the improvement of its information backup and recovery system. In 2007, they acquired the IBM Tivoli Storage Manager (TSM) software for its information backup, which used one tape library – IBM TS3200 – to make the backup of files and databases of the servers.
Inasmuch as the infrastructure was escalated with an SAP-based information management system, among other IT services, the number of physical serves doubled between 2007 and 2012, passing from 8 to 21 machines – 17 of them located at the Chambacú office. Consequently, the backup and recovery process became even more critical. After several years of operation under this client / server model, a systems virtualization project starts in 2013, supported on a VMWare solution for multiple services in its main office of Chambacú and alternate office like Prado, where there were some of the physical servers backed up with Tivoli Storage Manager.
To support the virtual machines, a new backup solution was acquired –D2D Backup System from HP – which did not meet the expectations because the backups made had to be saved in the production SAN so that then, Tivoli Storage Manager could save them in tape. This made the process even more delayed, wasteful and inefficient. A copy of the incremental backup took between 8 and 10 hours, whereas a total backup took up to 18 hours in average.
In 2015, the IT team of Aguas de Cartagena initiates the planning of a global strategy of virtualized services, backup and recovery of information. In 2016, the company initiates, jointly with REDSIS, the tasks targeted to a unified organization of the entire virtual infrastructure supported with Veeam Backup and Replication.
A next generation, 8TB, 32-gig RAM Lenovo x3650M5 physical server is implemented, in addition to a new 24-tape IBM TS3100 tape library, that replaced the previous IBM TS3200 library as part of the technology renovation.
At the same time, 4 Veeam Backup Enterprise licenses are acquired to perform the backup of the Chambacú users' information and applications and, additionally, of the Prado office machines, one physical and three virtual.
Implementation times with Redsis were very fast; the solution was operating in 2 weeks.
The Veeam Backup and Replication solution assures compliance with the company's service global virtualization, information backup and recovery strategy into a unified scheme that significantly reduced the times of these tasks.
The company's 450 internal users have improved their productivity given that the Veeam Backup facility of restoring from a file to a full virtual machine, has allowed significant cost and management time savings, passing from 8 hours in average to less than 50 minutes for a total restoration of the services.
Times were substantially reduced in backup and recovery tasks. For example, the backup time of the main machine that hosts all the critical files of the general and financial managers – which represents 700+ GB – passed from hours to less than 5 minutes (see image).
Something similar happens with the backup copy of the Prado office, which takes 30 to 40 minutes despite the fact that it is executed through the network. Under the previous model, this process would have required between 8 and 10 hours for an incremental copy, and a total backup at least 18 hours in average. It is worth to mention the reduction in extra risks if we consider factors such as errors in the execution of the physical copy in tapes.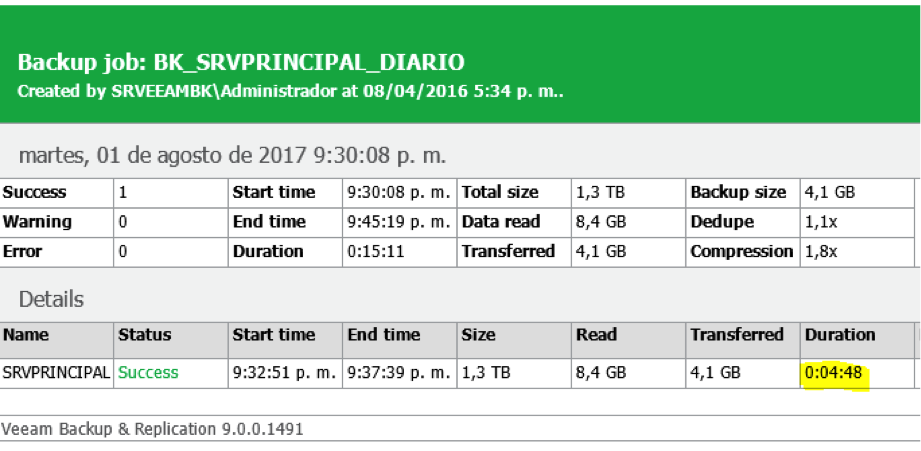 With Veeam Backup Enterprise, Aguas de Cartagena now can also restore full SAP servers containing an average of 2.3TB of data, in only 15 minutes, which minimally impacts the work of entity officers.
Backup of the SAPPRODUCCION machine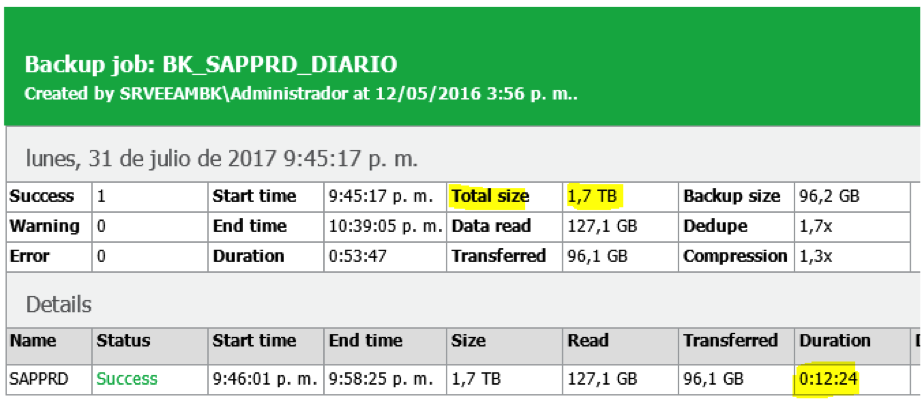 Summary…
With virtualization, Aguas de Cartagena saves a large amount of physical resources, time in administrative tasks, and with the Veeam backup and recovery solution, it has increased the availability of its IT services platform. Today, the company has 12 physical servers supporting SAP, as well as the new commercial system that includes business intelligence services, telephony, cartography, and Web applications, among others.
The virtual infrastructure backup and recovery project in Aguas de Cartagena is a successful reference of how a company selected the right backup and recovery solution for its virtualized server environment, improving efficiency and availability of its services, and fully adjusted to their technical and economic requirements. Just like with many other Colombian companies, Redsis continues to work with Aguas de Cartagena in the improvement of its IT infrastructure, becoming a strategic technology ally.