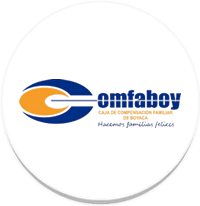 The solidarity sector in Colombia includes a n extensive service offering that covers the labor and family welfare needs of more than nine million five hundred thousand workers of six hundred thousand companies that operate in Colombia. * Caja de Compensación Familiar de Boyacá, Comfaboy, is part of the 43 funds that are in the country and offers subsidies, housing, health, recreation, financing, training and social assistance to more than 180,000 affiliates who work in fifteen thousand companies that contribute to the department.
Comfaboy is an organization incorporated on August 20, 1961 – seven years after the first family compensation fund in Colombia was created.
The entity has a 650-collaborator cadre of personnel, who work in the administration offices located in Tunja, Duitama, Sogamoso, Chiquinquirá, Paipa, Moniquirá, Puerto Boyacá, Guateque, Samacá and Garagoa; as well as in 4 school offices, 11 social gardens, 3 recreational facilities and 5 health centers.
Comfaboy has social welfare programs, which it develops under equity and solidarity principles. It is recognized for its soundness, efficiency, quality, and competitiveness, for the benefit of its affiliates and families.
The family compensation fund had an IT infrastructure acquired in 2012, which responded to the operating needs and growth of that time, under a well-organized service scheme.
However, five years after two fundamental challenges appeared: on one hand, a technology-obsolescence level, and on the other, the migration to a new ERP platform that met the IFRS legislation in force, electronic billing, among other requirements that allowed to phase the new business challenges, growth and quality policy regarding services and resource management.
The entity had a 12-physical INTEL servers-based infrastructure, in its offices of Tunja, Moniquirá, Paipa, and Sogamoso, as well as a contingency datacenter in Bogotá. Out of these 12 servers, 5 run over Linux and 7 run over Windows, and in turn, they had 34 virtualized servers to attend the service demand.
The entire scheme was at its capacity limit, causing considerable delays in several mission-critical processes such as the liquidation of subsidies, accounting closings and report generation, among others.
In addition to that, there was the need to migrate to a new accounting and administrative platform, because work was done with an application developed by a vendor from Bogotá since 2000. This application and its databases run on 2 dedicated, physical servers and under an isolated scheme for a better response time to users.
With the passage of time, this scheme had generated a dense administration for the engineers team with multiple and simultaneous monitoring sessions and the risk of losing information due to possible process disruptions.
After a period studying the impact of having an infrastructure based on a traditional scheme, Comfaboy, together with Redsis, starts a growth and IT services improvement analysis. Then, an infrastructure consolidation strategy is designed with virtualized IBM Power Linux technology centralized in its main office.
This would allow to reduce not only the technology renovation and implementation costs, but also substantially improve the infrastructure management processes.
The strategy consolidated the 12 physical machines that existed into 3 servers: one IBM Power S822L for the LINUX environment with 24 virtualized servers; and 2 Intel Lenovo x3650M5 for Windows with 10 servers virtualized with VMWare. Likewise, the servers of 3 regional office were renovated with Supermicro machines.
During implementation, operating system and database licenses were updated, passing from Windows Server 2003-2008 to Windows Server 2014, and from SQLS 2008 to SQLS 2012. Likewise, the IBM Informix, VMWare Essentials Kit and vCenter for management licenses were renovated.
The storage system was changed into solid-state drives with one IBM Storwize v5010 unit, accompanied by the backup to tape solution, using IBM Spectrum Protect backup software and one IBM TS3100 tape unit.
The consolidation strategy gave significant results related to process efficiency and administration tasks.
The number of physical servers at the main office was reduced by 80% and the virtual server environment was extended and optimized using Power KVM for Linux environments and VMWare for Windows environments.
The technology renovation carried out in all offices, including their contingency center in Bogotá with IBM Power8 technology, reduced to one third the response times of applications to which 450 users have access; 200 of them are concurrent in the new ERP system.
For example, processes like benefits liquidation which previously took 12 hours, are now carried out in a maximum 3-hour time; and an accounting closing was reduced from 1 hour to 20 minutes.
These results also were achieved when migrating storage technology to solid-state drives, which improved access speed to the business-critical data and the experience of the user who access to the system from sundry offices.
Unification to only one version of the operating system and the database, likewise reduced the infrastructure monitoring work passing from 12 sessions to only 3. This extensively facilitated the process supervision task and the labor burden of the IT team, especially during monthly closings.
The consolidation strategy virtualized several physical servers that were isolated, reducing their number and achieving savings close to 20% in power consumption at the datacenters.
Regarding the ease of physical expansion and server maintenance, with IBM Power technology the engineers and technicians can do server components hot-swap and replace them for new components. Inclusive they can reboot the server in few minutes (an advantage versus the previous machines that took between 10 to 15 minutes).
Adding to this, there are the benefits that come with the modernization of the infrastructure that supports the entity's services such as a better data backup and recovery system; renovation of the machine support services and the peace of mind of counting on a robust platform to attend internal processes that allow giving prompt attention to user and affiliate company requirements.
For Comfaboy, this project is a success if we take into consideration that the objectives set for migrating the ERP system and an adequate renovation of IT were carried out without traumatisms thanks to the trust this client recognized with respect to Redsis' engineering team highlighting its attention span, problem resolution, knowledge, commitment and engagement with the entity.