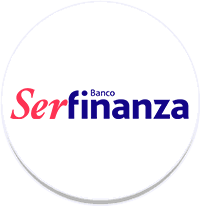 BANCO SERFINANZA is the only financial company originated in the Colombian Caribbean Coast; it offers different financial services to natural persons (individuals) and companies through its office network throughout the country. It is associated to Organización Olimpica S.A., therefore both its growth and expansion have been mainly driven by this relationship.
The company BANCO SERFINANZA is one of the most recognized and representative companies of the Caribbean Coast in the financial sector. Its tradition in the provision of financial services for individuals and companies has allowed it to evolve during 30 years, not only in the product portfolio but also in its coverage in different regions of the country where it has 117 points of attention.
BANCO SERFINANZA gathers resources through fixed-term deposits and has a comprehensive portfolio of credit products for natural persons (individuals), which include credit cards (Tarjeta Olímpica), education loans, vehicle credits, investment credit and factoring of receivables, among others. On the other hand, it offers an enterprise portfolio with credit options such as working capital, treasury loans, receivables, factoring, rediscount lines and leasing.
Entities in the financial sector must innovate permanently; it is a very competitive business environment where technology infrastructure is fundamental to enable new solutions and keep all services operating efficiently. Further, the transactional data volume generated is growing, and makes it necessary that information processing must be optimal and that the information is kept stored with the highest availability and security levels.
For this reason, BANCO SERFINANZA has a clear policy to renovate and update its IT infrastructure, which maintains the entity at the forefront in technologies that assure its competitiveness, and that serve as the basis for the generation of new alternatives of products and services for its clients.
Since it started operations, BANCO SERFINANZA has always sought to count on the best technology available; for that reason, all business "core" applications are supported on IBM's powerful servers and solutions.
The most recent renovation cycle took place during 2015 with a significant investment that allowed the entity to acquire the most recent IBM Power Systems servers and to incorporate innovative external storage systems, on which it was possible to enable continuous availability of mission-critical applications based on products such as Rocket iCluster, a business continuity and disaster recovery solution designed for IBM Power Systems and IBM Pure Systems.
REDSIS has been a vendor of BANCO SERFINANZA for over a decade, and has advised the entity in each of the cycles of streamlining and updating of its infrastructure; and, of course, once again it was present to undertake this new project.
"The company has grown with its IT allies and vendors; and, with REDSIS we have been over 10 years, time during which they have been true business partners who understand and timely interpret our needs. They always help us evolve, because the project panning we made 10 years ago is not the same we address today.
Greater analysis is needed; we find more complexity and have greater demand due to the new business needs, and in them we always find support", said Consuelo Jiménez Celis, IT Infrastructure Head at BANCO SERFINANZA.
The internal work team, together with REDSIS engineers, gathered the information and analyzed the existing architecture in order to define changes and additions required in the infrastructure. The entire modernization process had to be made gradually, so that it was transparent to the users and it did not have any impacts on the entity's day-to-day operation.
The project was carried out in two phases: the first one took three months, time during which the equipment for the credit area operation was updated; and in the second phase, it was updated the CMS application architecture for the credit cards line. The definition of the architecture of this last project, including the Disaster Recovery solution was finished by the end of 2015, and was implemented in the first quarter of 2016. With respect to the external storage system, REDSIS developed the entire operation to facilitate the integration of the storage of IBM systems with other solutions.
The benefits for the entity are reflected on two fronts. On the one hand, a significant reduction in information processing of the different portfolios was attained. For instance, in the credit card management closing (one of the most demanding), time was reduced by more than 30%. In other processes improvements of up to 50% were obtained, whereas in the security copy execution times a considerable time reduction was also achieved.
On the other hand, the solutions and tools necessary for business continuity and disaster recovery were adopted. "In this cycle, we invested in several technologies that will allow us to leverage another type of concepts; for example, storage management is the basis to develop other functionalities to have high availability.
From a process point of view, we have had noticeable improvements. For instance, disk-to-disk replication allow us to keep the alternate site updated in a much more efficient fashion", explains Consuelo Jiménez Celis, IT Infrastructure Head in BANCO SERFINANZA.
The future of BANCO SERFINANZA is full of new challenges. The company is in the process of becoming a bank, and from a technology infrastructure point of view, it is prepared to implement the new applications required to support the bank portfolio.
In addition, the entity's IT personnel is analyzing architectures and developing strategies to leverage the most the new infrastructure and present to the finance manager new projects that benefit all the business operation.
"The implementation without affecting the operation has been a great success and we have a great return on investment of the technology; working REDSIS' team of specialists has contributed to such success", concludes Consuelo Jiménez.
"Vendors are represented by their people, and REDSIS engineers, beyond any contract or sale, are always willing to support us and we have counted with their 7/24 availability when we have needed them. We know that we have many challenges ahead and hope to continue counting on an ally such as REDSIS who understands our business".