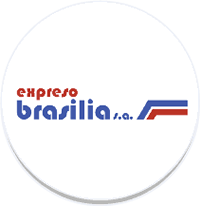 One of the most emblematic land transportation Colombian companies from Barranquilla. Currently, it has a portfolio of services that benefits many people and thousands of companies per year. Its streamlined infrastructure drives Expreso Brasilia to the future thanks to a substantial improvement if its internal processes and a greater analysis of the business.
Recently, Expreso Brasilia completed 55 years of operations; its transportation services initiated with the Barranquilla – Cartagena – Barranquilla rout in 1961, and currently, it carries 4+ million passengers a year; on top of that, it has other services in its portfolio such as cargo transportation and messaging, special transport corporate services for companies, and money remittances.
Its operations cover the entire Colombian territory, with more than 200 points of sale and 1,000 local destinations; further, it has international destinations in the cities of Caracas and Lima, in Venezuela and Peru, respectively.
Expreso Brasilia's businesses are dependent on the agility its daily transactions are processes and consolidated. The company had a datacenter with the business core applications to which all the offices were connecting remotely.
"Information is the most valuable assets of our company, and we wanted to increase its availability and security through a more robust infrastructure, and solutions that allowed us to have greater integration in the operations", explains Gustavo López, Director de Infrastructure in Expreso Brasilia.
The company wanted to improve the management in other company areas such as finance and human resources. In addition, to facilitate compliance with the standards without causing traumatisms to the users or business processes, or having to invest in additional developments.
Then Expreso Brasilia decides to migrate its main datacenter outside of its premises entering into an agreement with a telecommunications vendor; however, at the same time, it decides to keep its internal database as a contingency infrastructure.
Each of these datacenters has a backup and disaster recovery solution to guarantee high availability of information.
"For this project, we worked with Redsis because we found that they have all the experience in this type of technology and could offer us delegated management service whereby we can outsource the infrastructure management and give it to experts' hands", explains engineer López.
The business core was migrated to the new infrastructure, and then SAP systems were deployed including the integration required to work with the ticket system, remittances and postal packages, and other company services. All this process took several months and was gradually being assembled, conducting tests and with the protocols necessary until placing all solutions in production.
Redsis accompanied this process and assumed a delegated management of all the infrastructure, so that it can provide support to all company services. Redsis attends the operation of the machines and the support for Oracle DBA database and attends the cluster for the Oracle database support.
Lastly, it verifies the backup consistency and policies for the company with a ticket-based model, with operation management experts, which is done remotely with dedicated connection access to each console and 24/7 monitoring.
"Delegated management has allowed us to focus more on the business; and with Redsis we go together because it is a company acknowledged by its trajectory, which has always offered us access to skilled personnel in each area we have required", states Gustavo López.
Nowadays, Expreso Brasilia is better prepared for the future. Its new datacenter infrastructure (main and backup) is safest, efficient and with high availability times. The acquisition of a world-class solution, like SAP, integrated with optimized applications of the business core, have led the company to improve its operations in all areas.
On this basis, the company has access to new reports to analyze the business operation and additional controls. Also, it can adapt more easily to market changes or legislations in force and create new services in its portfolio.
Now the company can adopt other technologies like business analytics solutions that can take a large amount of data y translate them into valuable information for decision-making. "We optimized the infrastructure in order to have business growth through analytics, and on the other hand, to have solutions that allow us to have access from any device. We also want to utilize both structured and non-structured data sources for the benefit of our market growth", concludes Gustavo López.