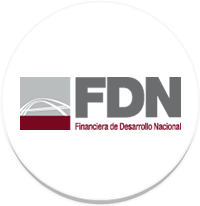 FDN, FINANCIERA DE DESARROLLO NACIONAL
The IT platform of Financiera de Desarrollo Nacional (FDN) has had to strengthen and project itself to support the operations of an entity that has become a fundamental ally for the financing and structuring of infrastructure projects in Colombia.
Financiera de Desarrollo Nacional (FDN) was initially created by the Colombian government to strengthen the institutional capacity of the government and strengthen the development of infrastructure projects at country level.
FDN (currently with a mixed ownership structure) is considered a unique entity in the country and like very few in Latin America, since it counts on the technical capacity to mobilize financial resources for infrastructure projects in the road, river, sea, and energy areas, as well as in social projects in the health and education sectors. For this reason, in few years, FDN has become an important ally of the key player of the sector.
The work carried out in the corporation goes beyond direct financing; it also interacts with other entities to have a more integral solution; in addition, it offers advisory, management and structuring of infrastructure projects.
In spite of being a very young entity, FDA has assumed major challenges since it was created in 2011. Currently, it assumes the work that was being carried out with the old FEN (Financiera Energética Nacional) and it formally starts operations in 2013, with redefined structure and objectives.
Previously, in its hardware platform, the entity had physical servers and independent storage systems, forming a rigid, difficult-to-manage architecture, and with much difficulty for scaling. Its main tool for business operations: SAP, was hosted in an external datacenter in rack-type physical servers.
"At that time, we had inconveniences in many fronts: network infrastructure, performance, availability; and then, we started to attack each front to stabilize ourselves", explains Engineer Luis González, Technology Director of FDN. "I consider that what should be done initially is to assure the hardware. To count on stable, updated hardware that operates accurately; otherwise, with unstable hardware, anything you install there will be unstable", states the director.
With this premise and a vision to stabilize each layer of the entity's technology infrastructure, a series of projects are initiated to look for solutions in each front. Then, a call is made to develop the architecture consolidations and centralization, with virtualized, high-availability servers.
"The decision was based on consolidating and counting on a flexible infrastructure that were not limited by the amount of hardware; in addition, we wanted to have optimal performance and minimize both power consumption and the space utilized, since we are located in a high-cost-per-square-meter zone and we must take care of the use of this resource", explains the engineer González.
Redsis participated and was awarded the call by presenting a proposal that met all entity requirements; in that way, a commercial relationship as stable as the very platform offered began.
FDN is offered a fully-integrated IBM PureFlex computing system with the capacity to manage, in a united manner, the computing, storage, networking and virtualization resources. This system internally supports up to 14 Blade servers that share physical resources and, additionally, allows in the same box, RISC processing equipment, like IBM Power systems, and x86 technology (Intel).
In addition, a middleware layer was developed to build a virtualization solution with VMWare, in such a way that each Blade server can support several virtual servers, thus achieving high resource optimization.
Regarding storage, all data was consolidated in an IBM Storwize V3700 system, a robust and economic solution for storage management that is scalable and has the capacity for hybrid storage, as well as a series of software tools to facilitate their administration.
The entire infrastructure was operating in less than a year, and the migration of all applications was conducted in a way to affect the entity's operation as less as possible.
"Each application had its own strategy. Directory servers, and file servers were migrated and activated with minimum impact. A large percentage of changes were transparent to the users, but users were informed about how those changes were going to benefit them", comments Engineer Luis González. "In the case of SAP, we leveraged this change to make a new implementation that went into production as from January 2016, in turn, allowing users to connect to the old implementation to make information query processes, but conducting their operations in a totally new environment and with response times way better than the minimum required by SAP".
Since the beginning, Redsis has been recognized as a fundamental ally in all these processes. "Redsis has proven to us that they continue to be the best option to solve all the technology needs that we have; we feel very comfortable working with them and feel we have a relationship that is about to go to a new level where the demands will be greater but we are sure that they will be able to handle them successfully", the director comments.
FDN's technology department is implementing new applications and looking for the way to deliver to entity users more tools to improve their business processes. "Being able to implement world-class solutions will always generate good results, provided that the IT platform supporting them is stable".
"Future plans are ambitious and challenges do not stop. A growth plan is already targeted to be developed in 2019. We will acquire a new infrastructure that will allows to have greater availability, replication and fault-tolerance. We expect a really large growth when we migrate to a new SAP version, and that, together with other projects, will make that, perhaps, 2019 will be the most important year for the entity's technological growth", concludes Luis González.